Brotherhood Weekend

Please come and join us for Connecticut DeMolay's annual Brotherhood Weekend. Once again, in addition to the Initiatory Degree and Outdoor DeMolay Degree, we will have a full menu of activities. Past events have included an Alpine Climb, Archery, Dodge ball, Basketball, Obstacle Course, Capture the Flag, Man Hunt, Canoeing, and Kayaking and back by popular demand, Archery Tag! Events will vary depending on weather and conditions.
This year Connecticut DeMolay is pleased to announce that Intern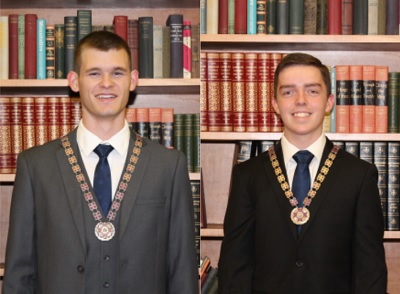 ational Master Councilor, Brother Chase W. Gordon will be there with a special program for DeMolays and Advisors, making this Brotherhood Weekend an extraordinary event, not to be missed.
Who can come: All DeMolays, Candidates, and Advisors
Where: YMCA Camp Hazen, 204 West Main Street, Chester, CT 06412
When: 5:00 pm Friday, October 13th -11:00 am Sunday, October 15th
How much: DeMolays: $85, [$10 off to the first line signer of any candidates attending]
Advisors: $85; Candidates: $50

Register by October 2, 2017 for a $10 per person discount.
Every attendee, Advisors, DeMolays and Candidates alike, must complete the Connecticut DeMolay AND Camp Hazen release forms to be able to participate. Registration is to be completed online by a Chapter Advisor. Sorry, no exceptions.
Note: registration is not complete until both forms are uploaded, and payment is applied. And Camp Hazen requires a hard copy for their records; please bring it with you.
Youth Form:

Adult Form:

As always, heated cabins are first come, first served, register early to avoid being cold.
The "DeMolay & More Store" will be selling refreshments and DeMolay items.
There will be pizza for snacking late Friday night after the degree, but no dinner will be served.
This is a camp, not a hotel; please pack accordingly. Bring a sleeping bag, pillows, towels, soap, and changes of clothes, especially socks. We will have evening programs and the nights can get cool in October, so again, pack accordingly. Because of such high attendance, we cannot guarantee heated cabins. Bring warm stuff – and a flashlight.
PLEASE!! Do not bring video games, iPods or other valuable items. We are staying in unlocked cabins, and the camp is on a public road. Be Smart. Be Safe. Leave these things at home.